Here's Philip Davies, a kind and caring Conservative M.P. posing with Carers UK and Macmillan Cancer Support to pledge that he will stand up for Carers while he's in Parliament.
Nice Photo opportunity Phil;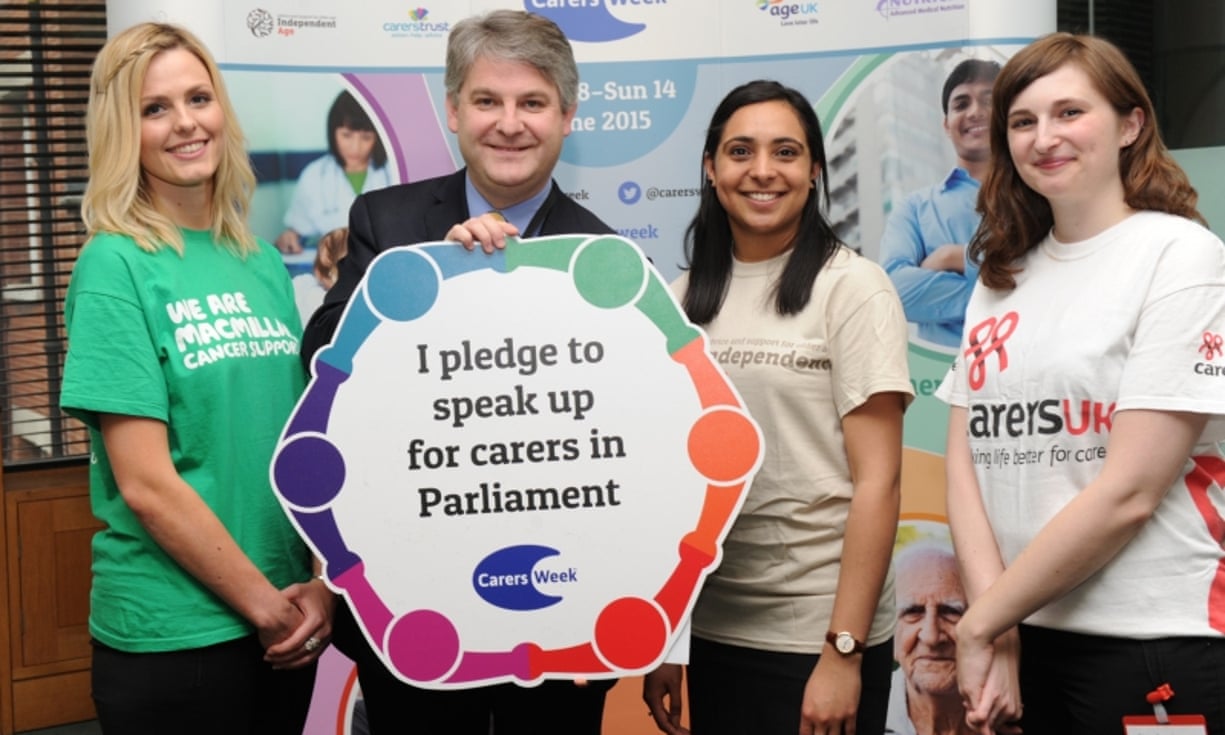 This is an article from today's Guardian newspaper;
Filibustering Philip Davies MP pledged his support to carers as part of the national Carers Week 2015 awareness campaign, in June. Photograph: Carers Week
Tory MP's filibuster blocks bill to give carers free hospital parking
Philip Davies speaks for 93 minutes to use up time allocated to debate Labour MP Julie Cooper's private member's bill
The Guardian.
A Conservative MP has blocked a proposed law to introduce free hospital parking for carers by speaking in the House of Commons for 93 minutes in order to use up the time allocated for the debate.
A private member's bill brought forward by Julie Cooper, Labour MP for Burnley, set out a proposed exemption to hospital parking charges for carers. At the moment hospitals have discretionary powers to grant exemptions to parking charges.
Philip Davies, the Conservative MP for Shipley, deployed a tactic called filibustering – where MPs speak for so long that a vote is delayed or prevented – and spoke about his opposition to the bill for more than an hour and a half.
He was aided by the Conservative MPs Christopher Chope and David Nuttall, who spoke for another hour and 20 minutes between them.
Davies said the proposals would mean "higher car parking charges for everybody else who visits the hospital in order to protect that revenue stream for the hospitals".
Nuttall, the MP for Bury North, said it was inevitable that one of the consequences of the bill would be to "divert part of the healthcare budget that could otherwise be used for frontline national health services, potentially life-saving services, to cover car parking maintenance and all the associated costs".
Labour MP Khalid Mahmood condemned the tactics deployed by some on the government benches. "Owing to the assassins on the government benches more than two hours of time has, bizarrely, been taken up, and I do not think that I will be able to go into all the important issues that I wished to raise," he said.
The bill will now go to the bottom of the pile of private members' bills, but health minister Alistair Burt said the guidance principles sent to hospital trusts by the government detailing who should be granted concessions or exemptions would now explicitly mention carers.
Cooper, who introduced her hospital parking charges (exemption for carers) bill to the Commons for its second reading, said the charges placed an unfair financial burden on those caring for disabled, seriously ill or older friends and relatives.
She spoke about her experience of caring for her own mother when she was in hospital. "Each night when I left tired and distressed I queued up to pay for my parking," said Cooper.
"At that time it was costing me £40 a week. On one of those days driving out of the car park, it occurred to me that I was lucky because I could afford to pay this charge and I went on to reflect on the matter and I thought what about those people who can't afford to pay?"
----------//----------
I've been battling about parking fees for two years now - they just get higher and higher.
Hospitals do allow some groups free parking......but they don't advertise the fact.
Meanwhile most of those who aren't eligible are usually on low incomes.
I've documented how St. Peters and Wexham Park hospitals charge outrageous parking fees to patients and visitors and then spend all the money on collecting money, security and sometimes on private contractors.
The NHS is underfunded but inventing underhanded taxes on patients and visitors is just plain.......underhanded.
When did you ever hear of an NHS manager or board of governors ever campaigning for more money for their hospital?
Neil Harris
(a don't stop till you drop production)
Home: helpmesortoutstpeters.blogspot.com
Contact me: neilwithpromisestokeep@gmail.com